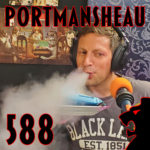 Recording Date – 25 / Aug / 2023
The Gang – Andrew & Puke
Intro Song – "Cosmic Slop" by Paliament
Outro Song – "Party At Ground Zero" by Fishbone
Guest – Brett & Gabriela
~~~ www. Portmansheau .com ~~~
+ Patreon / PCL : portmansheau.com/vip
+ Livestream : portmansheau.com/live
+ Email : contact@portmansheau.com
+ Facebook Group : facebook.com/groups/391264851298216
+ Merchandise : N/A
+ Address : N/A
~ just search "Portmansheau" ~
Spotify Podcasts + Apple Podcasts + Google Podcasts +
Facebook + Instagram + YouTube + Podomatic
Talkings About –
~ Anatomically sack-urate.
~ Rape of the Spaniards.
~ Gabriela shares family photos.
~
~ Pittsburgh has parks. But not everyone has access.
~ Stop raping the taxpayers for your parks!
~ Bigotry of low expectations.
~ Puke makes a home gym.
~ Andrew thumb update!
~ Gabe has never heard the phrase "retard strength"!
~ Puke missed a music show?
~ They all went to a concert in McKees Rocks.
~ Fishbone / https://en.wikipedia.org/wiki/Fishbone
~ Parliament / https://en.wikipedia.org/wiki/Parliament_(band)
~ The Great White concert fire. / https://en.wikipedia.org/wiki/The_Station_nightclub_fire
~ Happy home gym to Puke! / Andrew's birthday!
~ Andrew appreciates Gabriela's ability to put the creamer away.
~ Brett's father gets a surprise party.
~ Plum Island, Massachusetts
~ Puke should be a therapist.
~ Kids have snacks!
~ Andrew is going on a Miata cruise.
~ See No Evil, Hear No Evil / https://www.imdb.com/title/tt0098282/
~ Brett plays "Schindler's List" while we hear "See No Evil, Hear No Evil"